Why buying carbon credits will help save elephants, rhinos and lions
Written by MWCT Founder, Luca Belpietro
Carbon: a vital element. Without it there is no life.
Eighteen percent of the human body is comprised of carbon.
So, why is there controversy over carbon emissions? What is wrong with having more and more carbon in the atmosphere?
Our atmosphere has changed significantly over the years. Eons ago it was made mainly of CO2. But, humans – or even hominids! – were not around to breathe it then! About 2.4 billion years ago, the atmosphere was transformed when algae (cyanobacteria to be precise) produced oxygen through photosynthesis, creating a hospitable environment for life as we know it to flourish.
So how about talking of CO2 levels in the atmosphere which was actually being breathed in by our ancestors?
That would give a meaningful indication. Don't you think?
The graph below is produced the National Oceanic and Atmospheric Administration (NOAA), a United States science agency within the Department of Commerce, it reflects data collected by the space agency NASA (not by partisan or radical environmentalists).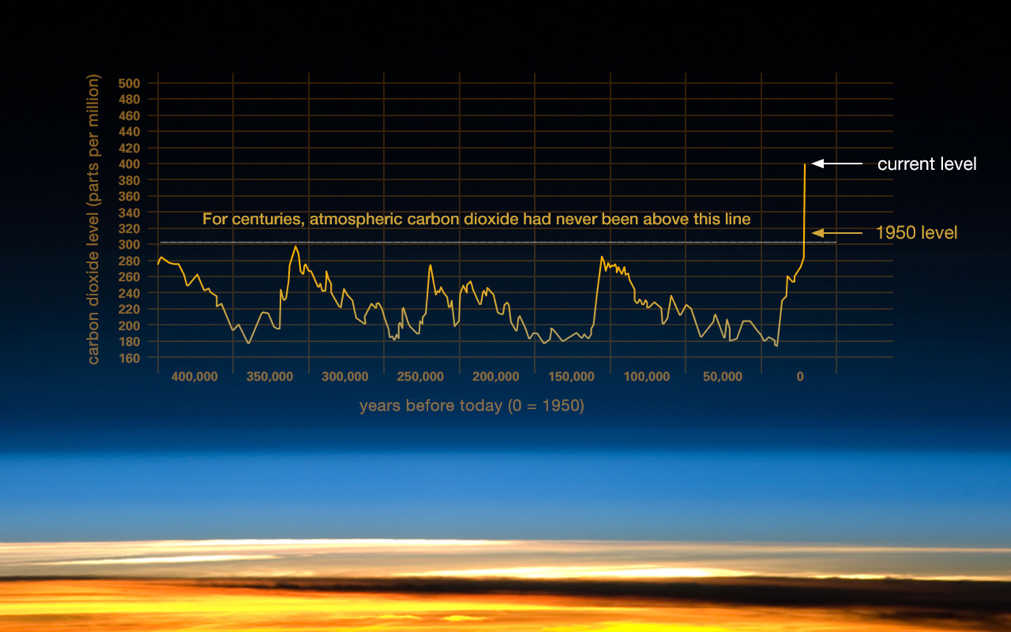 Here below you can see it even better:
So far, there is nothing to argue, right?
It is obvious to anybody with sight that since the Industrial Revolution the levels of CO2 have spiked to a level never seen in the last 400,000 years. The reason for this spike is evident too: we have burnt fossil fuels and trees and as a result, we have released CO2 into the atmosphere.
There is no argument over these scientific facts.
And the level keeps raising. The graphic below shows how CO2 levels have increased over the last 12 years.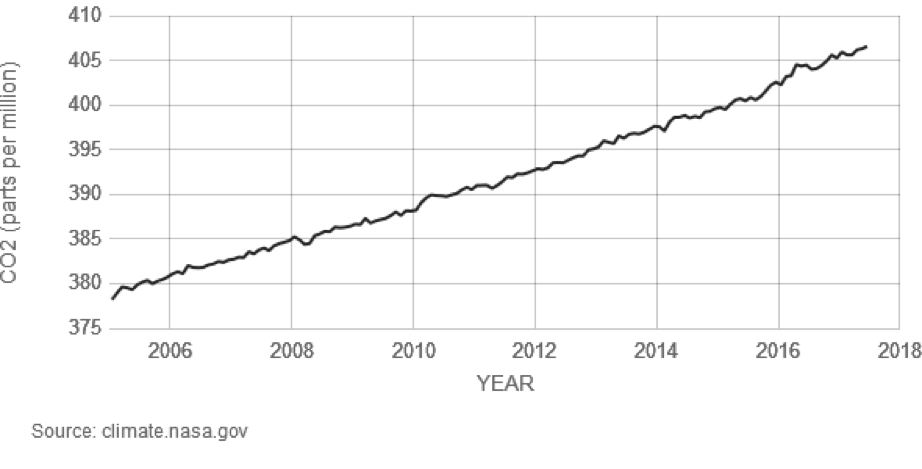 Again, this is straightforward data collection. There should be no reason to argue these conclusions. Burning fossil fuels and cutting down forests releases CO2 into the atmosphere.
Where the argument or controversy begins is how the effects of these sky-rocketing values of CO2 affect our climate.
I believe that facts do not lie: the graphs below from NOAA represent the temperature trends of the last 130 years. Data confirms what visual evidence reveals: temperatures are rising.
There are two important mountain terrains which have played a significant role in my life: the Alps, where I grew up, and Kilimanjaro, which dominates the beautiful land I have been calling home for the last 22 years, as founder of an the eco-lodge, Campi ya Kanzi, and of a community based nonprofit organization, the Maasai Wilderness Conservation Trust (MWCT).
In the Dolomites, where I happily skied in my teenage years, there is an empty space instead of the ski slope I used to ski. There is air now instead of snow. In the Dolomiti del Brenta, under Mt. Adamello: the "mountain" is gone. It was a glacier and it is no longer there.
Kilimanjaro, I was told by a very old Maasai lady, had snow to its saddle in the early 20th century. I have been on its top three times. Each time there was much less ice than the previous time.
While I write this and I look at the mountain, the ice cap is so small, I can barely see it.
Judge for yourself, in these images of early 1993 (left) and late 2000 (right):

See below how it looked in the past and how it looks now:

I find it logical to believe the science that links the melting of glaciers with the increasing levels of CO2 in the atmosphere. I do not find it debatable that human activities have been affecting the climate changes we are experiencing.
Some will disagree. I am fine with that, but I will not follow their illogical thinking.
I think emitting less CO2 will be healthier for the planet, for my kids, and for the kids of their kids…
If you agree with me, what could you do about it?
You can do many small things to reduce your emissions and your carbon footprint. But what can you do about the certain emissions that you cannot really avoid? For example the ones related to travel: we do not have commercial aircraft that are powered by green energy, yet!
So there are businesses and industries which can really do very little to reduce their emissions.
Thanks to a United Nations initiative called REDD (Reducing Emissions from Deforestation and Degradation), you, I, and these industries now have a way to make a serious impact on the carbon released into the atmosphere every year. We have a fabulous choice on our hands: we can offset our unavoidable emissions by helping avoid further emissions. Sound cumbersome? It is not. Hear me out: 15% to 20% of CO2 emissions a year are due to deforestation.
Forests get cut down for commercial use or to create farm land.
What if we could make a living forest more valuable than a dead one? What if we could prevent the destruction of forests by protecting them as carbon sinks and avoid the CO2 emissions released when forests are cut down by simply making it more economical for the communities living near the forests to keep them alive and healthy instead of cutting them down? REDD makes that possible. This should be a no brainer, right?
Well, this is doable.
How does REDD work? It's not an easy process and is heavily science based.
In a nutshell: by protecting forests, the rate of deforestation is reduced or stopped. The amount of forest loss that would have occurred can be calculated and the amount of carbon it would have been emitted can then be estimated. For every metric tonne of carbon that is not emitted, one carbon credit is created.
The Chyulu REDD+ project is registered both with VCS – Verified Carbon Standard – and with CCBS – Climate Community and Biodiversity Standards. These standards ensure that the avoided emissions are correctly calculated and that the project conserves biodiversity and benefits local communities. They are the highest standards in the market.
While it took me few lines to explain it, it took us (MWCT, in partnership with Conservation International) six years to do it… and many $$$$.
And that is where we are today: we have secured the Chyulu Hills, Hemingway's "Green Hills of Africa", through a REDD+ Carbon Project (the plus stands for conservation of forest carbon stocks, sustainable management of forests, and enhancement of forest carbon stocks).
Our protected area extends from Amboseli to Chyulu to Tsavo National Parks; it covers one million acres and it affects 70,000 Maasai people.
The project has now been verified for 2,000,000 credits, or 2 million tons of CO2, and we can sell these credits into the voluntary market. Businesses and individuals can become carbon neutral by offsetting their emissions through buying our REDD+ carbon credits.
What does all this mean?
Simply put, you can now be carbon neutral and provide the local Maasai communities and local conservation organizations (we are working with other partners, including the Kenya Wildlife Service and the Kenya Forest Service) with meaningful non-philanthropic income.
How will the money be used?
Imagine if the Maasai landlords selected an apparently easy way out and did not care about the preservation of their forested watershed. They could cut down the forest and have meaningful income for a while. Instead we want the landlords to earn their income by protecting the forest: the carbon credit revenue will be spent for the benefit of the local communities on scholarships, employing teachers and nurses, and for building schools, dispensaries, etc.
And game scouts will be employed to patrol and secure not only the forest, but all our flora and fauna, which include the disappearing wildlife of the Chyulu landscape: lions, elephants, leopards, cheetah, zebra, giraffe, antelope, buffaloes, and even the critically endangered black rhinoceros.
This is exactly what MWCT has been doing for the past 17 years, except with philanthropic money.
We now want to secure the funding of these programs and not depend on philanthropy, and we want to expand them and demonstrate that protecting natural resources is the best course of action, economically and environmentally, for a better future for all the local communities as well as for the tourists who visit the world-renowned Tsavo and Amboseli ecosystems.
Keeping the forest alive will provide the Maasai landlords with meaningful incomes.
So here you have it: by simply acknowledging that there are actions you take which cause emissions of CO2, you can now neutralize your emissions and support and sustain a healthy ecosystem where iconic biodiversity will continue to exist with the Maasai landlords…not only for the benefit of the local Maasai communities, but for you, your kids and their kids as well. A perfect sustainable conservation model, based on responsible use of natural resources.
Simple and beautiful.
A friend of mine told me "carbon is not sexy". I disagree. I find it the sexiest thing of all: I can reconcile myself to those emissions I cannot avoid, I can neutralize them and in so doing, I can provide a centuries-old African community with the means to protect their wilderness and wildlife heritage. This is a very sexy dream for me, a dream that is about to turn into reality.
Do you want to play a part in making it real? Join me and Edward Norton, UN Goodwill Ambassador for Biodiversity, and the Leonardo DiCaprio Foundation who has helped us get to where we are today.
Go ahead and click here to calculate your carbon footprint, it will just take you three minutes! And then offset it and become a carbon neutral person!