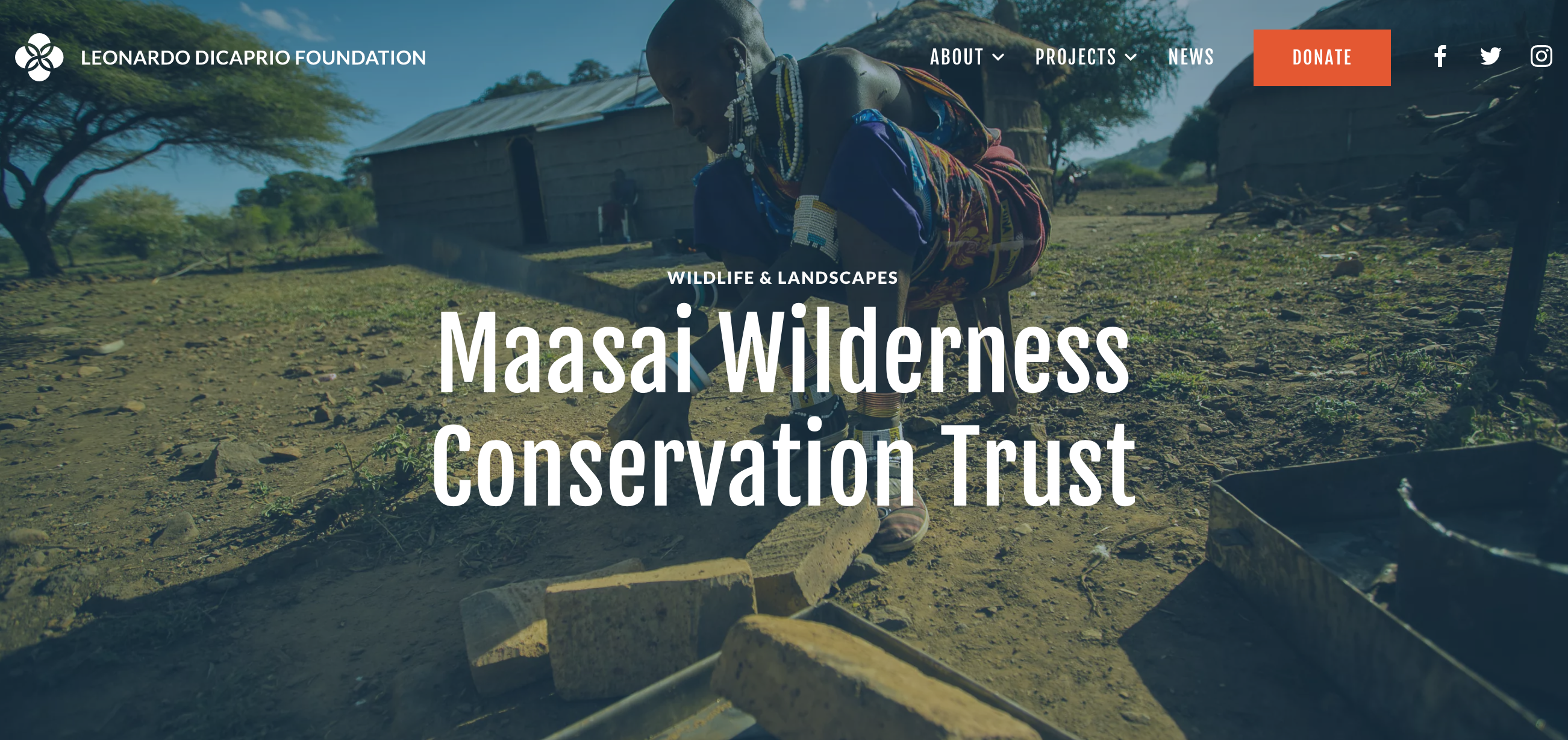 The Kuku Group Ranch comprises 280,000 acres of biologically diverse, critical wildlife corridor area in Kenya's Chyulu Hills landscape, at the heart of the Greater Tsavo-Amboseli Ecosystem. One of East Africa's most important and extensive areas for wildlife, the greater ecosystem includes Kenya's largest population of elephants,3 remnant populations of critically endangered black rhinoceros and a mosaic of other iconic savannah and forest species. The Kuku Group Ranch includes a range of ecotypes, from montane cloud forest to grassland savannah. The cloud forest and its springs provide invaluable freshwater sources, not only for the surrounding areas, but for human populations as far away as the port city of Mombasa. The grassland savannah meanwhile provides a critical wildlife corridor, particularly between the Amboseli and Tsavo National Parks.
MWCT's Conservation Program addresses an LDF (Leonardo DiCaprio Foundation) priority, "Engage and empower local communities to be the protectors of their natural resources." MWCT's organizational mission is precisely to implement this priority in the Chyulu Hills landscape of the Tsavo-Amboseli ecosystem; specifically, in the Kuku Group Ranch, where land title is held by the indigenous Maasai population. Traditional custodians of the land, the Maasai have struggled to maintain sustainable communal land use amid modern pressures and policies. Since MWCT began in 2000, the local Maasai have renewed their appreciation of natural resource management and most now ally with MWCT for conservation. However, economic pressures are significant and still threaten to undercut conservation behaviors. Major threats to the area include unplanned expansion of subsistence agriculture and settlement, as well as unsustainable exploitative practices, such as charcoal burning, timber harvesting and poaching. Together, these behaviors would lead to deforestation and associated depletion of wildlife populations. MWCT works to hold these threats at bay on a daily basis; without the provision of continued incentives and support to the community, wildlife populations – including lion and elephant – would be quickly extirpated as the land became degraded.
MWCF is also actively working toward another LDF priority, "Incorporate innovative, sustainable financing mechanisms to cover long-term management costs." MWCT has always sought to leverage market mechanisms to fund its conservation and community engagement activities. First, through its ecotourism partner, Campi Ya Kanzi, tourist fees fund compensation to herders who lose livestock to wildlife predation. For the past several years, MWCT has played a key role in developing the Chyulu Hills REDD+ Project, which credits are available for purchase to become a carbon neutral person today! You can calculate your carbon emissions here.
LDF has been a critical partner to enable MWCT to continue its successful model of community-led conservation as we develop sustainable financial mechanisms. We are extremely thankful for their continued belief in our work and support! 
To read more about our partnership with the Leonardo DiCaprio Foundation click here.
Leonardo DiCaprio Foundation awards $20 million in environmental grants

Photo Credit: John Hassett
(www.leonardodicaprio.org)